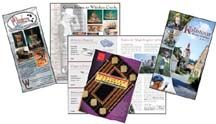 If you need 20 brochures or 20,000, Minuteman Press Powell uses the latest technology to deliver premium product. Our pricing and turnaround time will impress you!
Brochure Design Portland
A well designed brochure sells your product. It excites and entices your customers to find out more about your company. It needs to be graphically appealing and carefully scripted. It also needs to be professionally printed and finished to do its job correctly. Our brochure design staff at Minuteman Press Powell in Portland takes your ideas, words, or images and produces eye-catching promotional pieces. Or, if you already have art files, we print your brochure on a variety of stocks including gloss and matte paper. For smaller brochure runs that are digitally printed, we score and fold brochures using specialized equipment to eliminate cracking on the folds. The result is a beautifully printed product that's the same quality as any high end production but at a fraction of the cost.
"Working with Minuteman Press Powell has alleviated last minute stress by meeting our deadlines and delivering quality consistent products."
Sheena Millison, Marketing Assistant, Roth Heating & Cooling